1st HUMANITIES CONCURRENT INTERNATIONAL CONFERENCE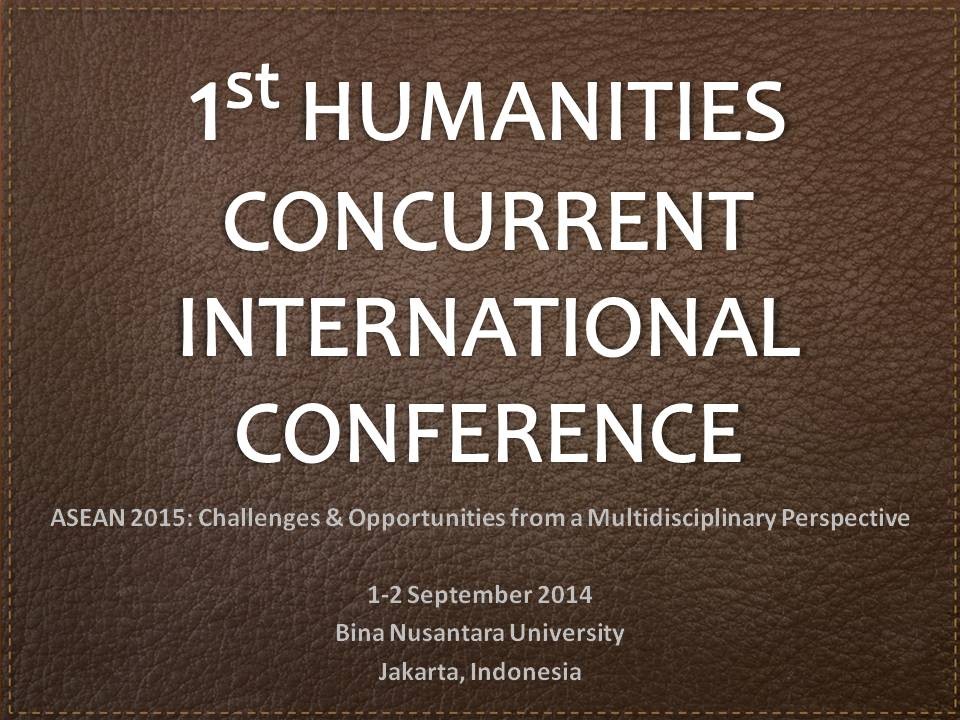 THE FACULTY OF HUMANITIES, BINA NUSANTARA UNIVERSITY PRESENT: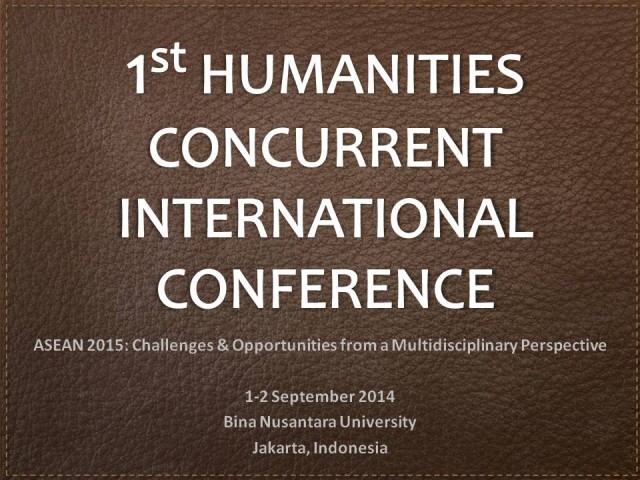 The economic, political and social role of South East Asia in global affairs is of paramount importance. As the Association of South East Asian Nations evolves, it becomes more and more important to understand the challenges and opportunities faced in the region and how they affect the whole world.
The Faculty of Humanities invites scholars, professionals, experts and enthusiasts to participate in a series of concurrent conferences. These conferences address the opportunities and threats to ASEAN from a range of disciplinary perspectives: Language & Culture, Psychology, Law and International Relations.
Bina University therefore announces a call for papers related to four domain specific conferences:
1st INTERNATIONAL CONFERENCE ON COMMUNICATION & CULTURAL STUDIES IN ASEAN
English, Chinese and Japanese are major foreign languages, which have a significant impact on business, cultural and economic developments around the world. This conference addresses language and cultural studies with relation to English, Chinese and Japanese studies.
Researching foreign language acquisition.
Cutlural Developments in ASEAN.
Contrastive Analysis.
Intercultural Relations and ASEAN.
Applied Linguistics.
Foreign language education in ASEAN: Pedagogical Perspectives.
2. Psychology
1st INTERNATIONAL CONFERENCE ON PSYCHOTECHNOLOGY (ICOP):
"Exploring the Role of Psychotechnology and Technology"
Psychologytechnology is a specialization in psychology which deals with the analysis and management of psychological reality and principles to accommodate needs and problem solving in our personal and professional daily life. It is a more advanced form of applied psychology in clinical, medical, social, educational, and organizational fields and certain features of the approach could prove effective tools to improve human's performance. We invite psychologists, academics and researchers from all fields and backgrounds to submit expositions about technology driven psychology-, and basic psychological research. Presenters should consider the following topics:
Psychotechnology in all areas of
educational psychology
clinical psychology
developmental psychology
social psychology
industrial  and organizational psychology
business
3. Law
THE 4th INTERNATIONAL CONFERENCE ON LEGAL PHILOSOPHY
The conference aims to analyse how current national and international legal frameworks concepts affect communities living in South East Asia and beyond. The conference also addresses the global influence of legal philosophy.
Topics areas are described below. A paper may address one or more of the listed general topics. Unlisted but related themes are also acceptable, provided they fit one of the following main topic areas:
Classical and contemporary legal thought.
New approaches in legal methodologies
Theories and concepts of justice
Evolving legal services and access to justice
Business crime and ethics
Limits of religious freedom
Law enforcement and justice
Victim based justice
Current developments in law.
THE 3rd INTERNATIONAL CONFERENCE ON BUSINESS, INTERNATIONAL RELATIONS, AND DIPLOMACY:
"ASEAN Community 2015: Regional Opportunities and Challenges"
The 3rd International Conference on Business, International Relations, and Diplomacy welcomes scholars, government officers, business groups, and non-governmental organizations to send their manuscripts based on the following topics:
Political and Security Issues: Sea and Border Land Disputes / ASEAN Maritime Cooperation, Conflict Resolution in ASEAN, Preventing and Combating Corruption
Economic and Business Issues: Economic Development Gap and ASEAN Economic Integration, Economic, Tourism, and Diplomacy, Bilateral Free Trade Agreements and Regional Economic Integration
Socio Cultural Issues: Promotion and Protection of the Rights of Migrant Workers, Education, Youth, and ASEAN Socio-Cultural Community, ASEAN's Awareness and Sense of Community
ASEAN and Asia-Pacific: ASEAN Economic Community, ASEAN+3, and Trans Pacific Partnership, ASEAN, the PRC and the U.S.
INSTRUCTIONS FOR SUBMISSION.
These instructions apply to ALL conferences.
Presenters who wish to be represented in the SCOPUS indexed proceeding should submit the complete paper.
Presenters who wish to be represented only in the Bina Nusantara Proceeding should submit an abstract.
Papers and abstracts must contain the title, name of the author(s), affiliation of the author(s), e-mail and contact information.
The length of a paper is to be 1,500-2,000 words, single space, including footnotes and references.
The length of an abstract is to be a maximum of 200 words with maximum 5 key words
Papers and abstracts must be submitted in Word.
References must follow APA format (for details of APA format please visit www.apa.org)
References for papers intended for SCOPUS proceedings should follow the criteria outlined here: http://www.aspbs.com/science/inst-auth_science.htm
Registration Fee for all conferences includes:
CD of Proceedings
Conference Kit
Certificate(s)
Lunch and Snacks
IMPORTANT DATES.
Submission dates are valid for ALL conferences.
| | |
| --- | --- |
|  Activities | Dates  |
| Deadline of full paper submission | 1st  August 2014 |
| Notification of accepted papers | 11st August 2014 |
| Last day of registration | 22nd August 2014 |
| Conference Date | 1st – 2nd September 2014 |
For detail information, please click to each conference:
1. 1st International Conference on Communication & Cultural Studies in Asean (ICLC)
2. 1st International Conference on Psycholotechnology (ICOP)
3. The 4th International Conference on Legal Philosophy (ICLP)
4. The 3rd International Conference on Business, International Relations, and Diplomacy (ICOBIRD)