Background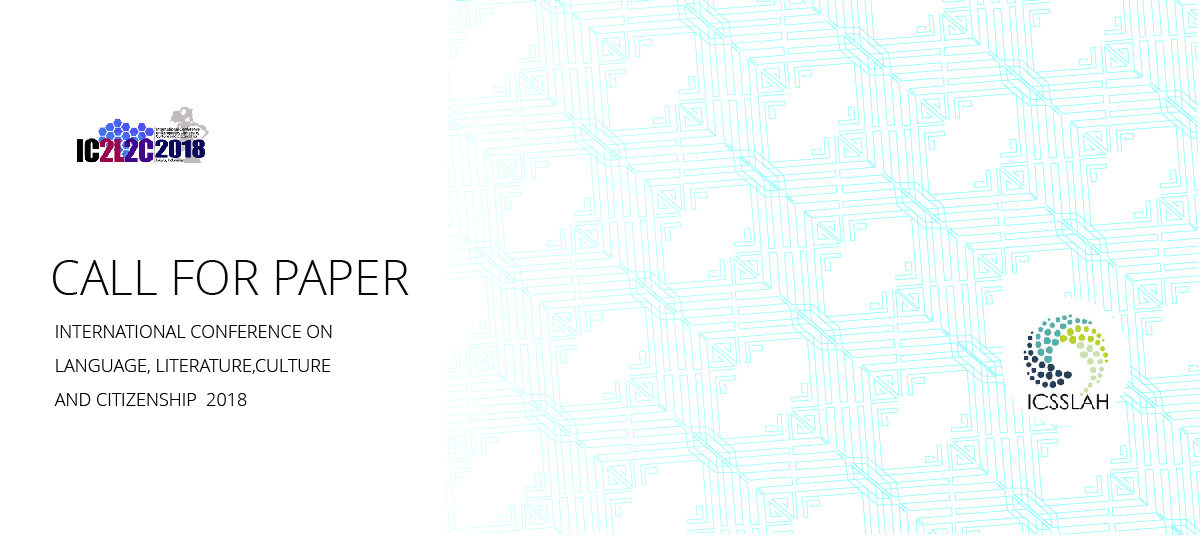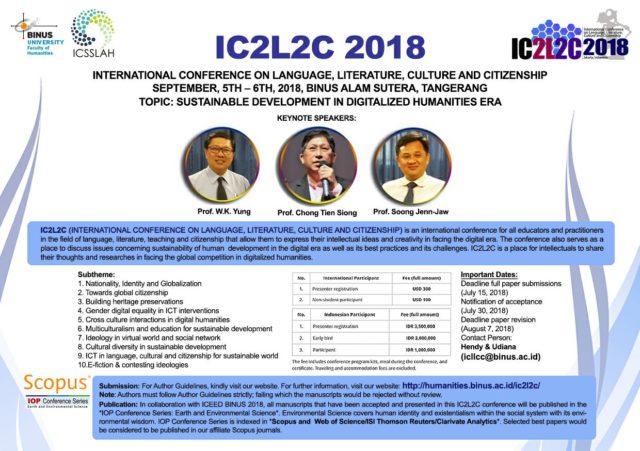 IC2L2C (International Conference on Language, Literature, Culture and Citizenship) is an international conference that covers all educators and practitioners in the field of language, literatures, teachings and citizenship that allow them to express their intellectual ideas and creativity in facing the digital era. The conference also serves as a place to discuss issues concerning sustainability of human  development in the digital era as well as its best practices and its challenges. IC2L2C is a place for intellectuals to share their thoughts and researches in facing the global competition in digitalized humanities.
Theme: Sustainable Development in Digitalized Humanities Era
Subtheme:
Nationality, Identity and Globalization
Towards Global Citizenship
Building heritage preservations.
Gender Digital Equality in ICT Interventions.
Cross culture interactions in digital humanities.
Multiculturalism and Education for Sustainable development
Ideology in virtual world and social network
Cultural Diversity in Sustainable Development
ICT in Language, Cultural and Citizenship for sustainable Word
E-fiction & contesting ideologies
SUBMISSION
Download Author Guidelines for Conference Proceedings. Note: Authors must follow Author Guidelines strictly; failing which the manuscripts would be rejected without review.
Full paper must be submitted through http://conference.binus.ac.id/ocs/index.php/ic2l2c/index/user/account
REGISTRATION
The authors receive and oblige to the terms and conditions of the conference upon the payment is settled. The committee will announce the update officially on the website and the registrants must follow the terms and conditions as stipulated.
| | | |
| --- | --- | --- |
| No. | International Participant | Fee (full amount) |
| 1. | Presenter registration | USD 300 |
| 2. | Non-student participant | USD 100 |
| | | |
| --- | --- | --- |
| No. | Indonesian Participant | Fee (full amount) |
| 1. | Presenter registration |  IDR 3,500,000 |
| 2. | Early bird |   IDR 3,000,000 |
| 3. | Participant |  IDR 1,000,000 |
The fee includes conference program kits, meal during the conference, and certificate. Traveling and accommodation fees are excluded.
In order for you to make online registration, you are requested to pay the above conference fee through following link:
http://research.binus.ac.id/conference/registration/ic2l2c/